Miguel Cotto has taken a lot of punishment during his 8 year career, possibly too much. In an age where long-time boxing fans bemoan a newer and lesser generation of fighters, Cotto is a throwback. He approaches his craft with a blue-collar and workmanlike mentality, takes his work seriously, and is as tough as they come.
Unfortunately, Cotto isn't appreciated as much as he should be. The man has put together a tremendous body of work against the best fighters of his generation, and he has often taken a horrific beating in both wins and losses. And yet, we still have the usual internet crowd of experts questioning his heart, chin, grit and toughness for his performances against Margarito, Clottey and Pacquiao. Many never forgave him for his taking a knee in his final round against Margarito, and those same brave individuals in front of their TV's will never forgive him for backpedaling much of the last rounds in the Clottey and Pacquiao fights. In truth, Cotto is too tough for his own good.
Unlike some other fighters of recent year who have earned prestige for toughness in the ring, Cotto's skill-set puts him in the squared circle with only the most elite of fighters. Guys like Arturo Gatti, tough and game as any fighter who ever lived, took their punishment from much more limited fighters than Cotto's opponents. When Gatti stepped up in class to fight Floyd Mayweather Jr., he was simply annihilated within a few rounds. Stopping that fight was an easy decision to make. The decision to stop a Cotto fight is much more difficult due to his superior talent. Cotto always has enough good moments to dissuade his corner, the ref or the ringside doctor from stopping the abuse. He is excellent at fighting off the back foot, throwing a stiff jab or double jab, and then countering with fast and hard combinations when his opponent overextends himself. His ability to do that earned him an extra 3 rounds of bludgeoning last night against the buzz-saw that is Manny Pacquiao.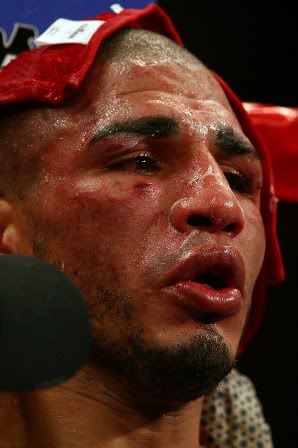 It has been established that a quick and sudden knockout is far less punishing over the long-term than the cumulative damage that is dished out over the course of a 12 round championship fight. Cotto's fights against Margarito and Pacquaio have most likely taken years off of the fighter's life.
At one point, the beating was so conclusive that Cotto's wife was forced to leave the arena with their young son. On that note, shame on the man who's decision it was to continuously pan to Mrs. Cotto and their son's face during a break in the action. It was reminiscent of Mayweather's fight against British boxer, Ricky Hatton, where Hatton was splattered in the 10th round. The cameraman found it necessary to focus on Hatton's screaming wife for what felt like minutes as her husband was quickly surrounded by his doctors and cornermen. Boxing has always produced more drama and action than any other sport, and it's an unnecessary and distasteful trick to try to engender more by focusing on these personal tragedies.
Cotto is still a skilled and dangerous fighter, and would most likely beat all but the very top 2 or 3 welterweights in the world. That being said, he may want to consider winding down. At only 29 years old, he is a young man, but people age differently in boxing. That was clearly shown when Joe Calzaghe met Roy Jones Jr. last year. While nearly the same age in years, Jones Jr.'s career had been far more damaging after concussive knockouts at the hands of Antonio Tarver and Glen Johnson. There was no question of who was the "younger" man that night. So it is with Cotto. He has given us amazing fights in victories over "Chop-Chop" Corley, Zab Judah, Shane Mosley, Josh Clottey and Carlos Quintana, while taking tremendous punishment in losses to Margarito and Pacquiao. As Antonio Margarito was later caught trying to enter the ring with loaded handwraps, one has to consider the possibility that Cotto went nearly 11 rounds with a man who was using bricks instead of fists.
Sometimes it takes a fighter to retire before he gets the respect that he deserves, and so it may be with Miguel Cotto. The man is a pro's pro and has never ducked a fighter in his life. He has always been calm, polite and respectful towards the press and his opponents. He works hard and trains hard. In this "bling" generation, Miguel Cotto is an old-school type of fighter and an old-school type of man.