Last weekend, Dennis and I competed in the Southern California version of the Warrior Dash. I was going to wait until they posted the pictures, but they are taking their time, and I just can't stand it anymore. Disregarding what that says about my patience levels, the first question is probably "what is a warrior dash?" First of all, it's actually WARRIOR DASH, in all capitals, because it's just that awesome. Lower case letters are for chumps.
The Warrior Dash is a 3 mile race, complete with cool obstacles like jumping over fire, crawling through the mud, climbing a cargo net, wrasslin' alligators, and the like. People get all dolled up like various warriors throughout history. There were Spartans, Ninjas, Samurai, Knights, a few "300" rejects, and quite a few less identifiable types, one of which had goggles and a sparkly purple cape. I kind of wanted the cape. It looked like something Clara would make me if I still lived in San Francisco. Much like my shiny crown that I got for being King. Or maybe it was my birthday...I don't recall at the moment.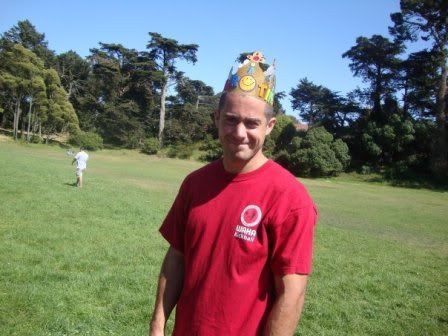 Anyway. The race was held in a lovely part of California known as Lake Elsinore. The town is basically a dust bowl with a small...I hesitate to call it a lake, but I suppose that's the official term. Swimming in it would most likely result in the unfortunate individual growing a third arm...probably out of their forehead.
Dennis and I carpooled, while he bitched and whined about driving his BMW on the dirt parking lot. We signed in, registered and collected our goodie bags. As far as I was concerned, we could have left right then. I was finally the proud owner of a kickass war helmet. Fuzzy and with white horns on the sides. Goddamn, it was cool. Dennis wore his with the horns forward and back, like he was a freakin' rhino. I kind of wished I had thought of the idea first.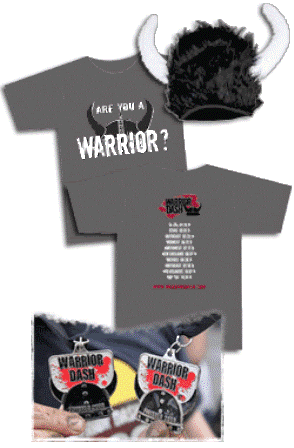 The goodie bags also included a ticket for one free beer apiece. Dilemma. We had been fore-warned that the line to collect the beers was ridiculous in the afternoons after the races were over. We had time to spare, and you can only look at so many costumed freaks dead sober. In unspoken agreement, we headed to the beer gardens to collect. As warriors should, we chugged, rather than sipped our brews, and then headed back to the start line. Both of us were pleasantly surprised by the volume and quality of the the female...umm..warrioresses. Dennis nodded approvingly.
We were both registered for the Noon wave, and we got up near the front of the starting line. A few hundred others joined us. The DJ got us revved up with some AC-DC and Metallica before leading us into a few deep and bass-heavy war cries. With a huge shot, they sparked a giant flame-thrower thing, and fire exploded 10 feet above our head. Dennis and I exchanged a fist-pound like we were the Obamas, and we were off. One guy in a referee costume sprinted ahead, and I settled into a small group 5-6 places back. Realizing that I would not be able to sustain a dead sprint for over 3 miles, I eased back slightly and found a good pace somewhere around 10th-12th place. A few people dropped back as they came to the same conclusion that I had. I started regretting the beer that I had pounded right before.
The first obstacle was bounding up and over bales of hay. Not too bad, and I gained a few places. Almost immediately was the second one, and we got to hop and over a bunch of old cars. It felt good to smash the hoods with my heels. A wooden wall to clamber over was next, and I started getting annoyed with all the obstacles getting in the way of my running. The next one was probably the worst for throwing off your pace, as you had to drop and crawl through a tunnel. I think I was around 6th place by then, and dying a slow, irritable and petulant death, while blaming Dennis for forcing the beer on me.
We had about a half mile respite, before traversing thin wooden planks over a shallow ravine. That one was no problem. The course then took us to water's edge, and we plunged into the waist-deep water in order to vault ourselves over some wooden logs set there to piss us off. This was the worst obstacle, as everything was now soaked. The first steps on solid ground were miserable, as our shoes felt like they were made out of cement. I passed somebody here, and I was in 4th. At this point, my faulty memory convinced me that everyone who places in the top 3 per heat got prizes, so I picked up the pace. I ran over the jungle of old tires, and gained on the guy in 3rd. The cargo net was easy, but I appreciated the chance to rest slightly. I passed the guy in 3rd shortly before we got to jump over a blazing inferno, and he dropped back almost immediately. I told myself it was obviously because I killed his heart by passing him. The best obstacle was the last, and you got to dive into a pit of mud. There was razer-wire above the bog, so you had to really get in there. Which was pretty fun. I love playing in the mud. I was securely in 3rd, but too far away to make a push for 2nd, so I didn't kill myself on the last stretch. I upped the ante slightly, but fell short of a flat-out sprint to finish.
I crossed the finish line to be handed a regular medal. Not a 3rd place medal, but a regular medal. Apparently, only people who place for the entire DAY get better prizes.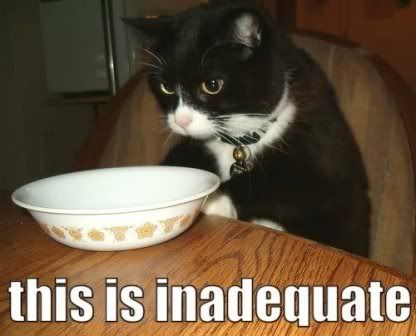 I whined to myself while I waited for Dennis. I consoled myself by recognizing that I got first place out of everyone who was wearing their war helmet during the race. VICTORY! God, I love the sweet nectar of victory. Yum.
Dennis came charging up shortly after, and we dunked ourselves in the "lake." More fist pounds.
As we were out of free beer tickets and/or money, we took off to our buddy's house for beer and BBQ. More free beer. We showed off our war helmets and shiny medals. At some point, my man Mike had enough beers for us to convince him that he should go swimming in Lake Elsinore. He hopped in, clothes and all. Two kids heard us laughing and came over to check out the joke. They were greeted by the sight of a 6'6" monster, stumbling out of the lake like a black Jesus coming for their souls.
Having came, seen and conquered, we headed back to the car for the long drive home. Post-run fuel was brought to you by Boston Baked Bean candies, which were amazing. Nom Nom Nom.
I passed out by 9:30am.
A day later, we were able to check our scores. I got 25th out of the 2599 person field. So...no bigger medal. This gave me a sad.