Bryan, Brittney and I were pretty shell-shocked from visiting the
S-21 prison
the day before. It's difficult to find a smile after bearing witness to something like that. Brittney was interested in donating some supplies to a local orphanage, and we all agreed that it would be a good way to spend our last day in Cambodia. Our whiskey-drinking, bear-slaying, Alaskan-Fishing compadre Travis joined us.
There are quite a few orphanages in the city, and they are almost always open to visits from foreigners. We bring much-needed school supplies, food, toiletries, and impromptu English lessons. Plus, the kids dig it.

We arrived at a small center about 15 minutes outside of downtown. The director had not arrived yet, and there was an awkward moment after we delivered the school supplies, while kids and white folk stared at each other. David, a young and outgoing child saved the day. He came around the side of the building, marched up to the group of us, stuck out his hand, and said "I'm David and I'm Five!" He repeated this to each of us, shaking our hands with a big grin on his face. Britney busted out the finger paint, and the kids went nuts. After she painted the first girl's name on her arm, they clamored around her, crawling over her arms and legs like she was a piece of furniture.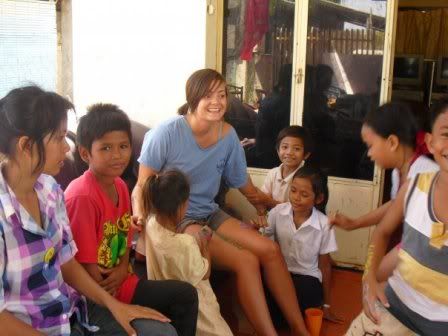 Bryan got all creative-like, and drew an elephant on one kid's hand. His friends went ape-shit for it, and Bryan was soon busy replicating his masterpiece on 12 sets of outstretched hands.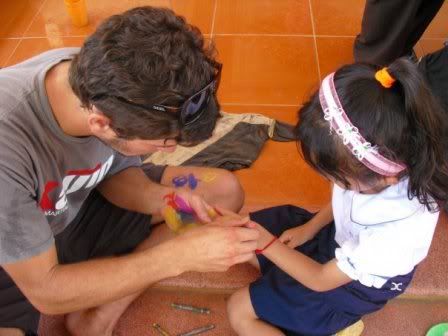 I have zero artistic ability, so I drew purple stars with yellow filling. I finished the first one and looked up at David's face with some apprehension. What if he hated it? What if I was the only crappy artist that had ever shown their face at the youth center? David whooped and immediately rolled his sleeve up to show it off to his friends. Regaining composure, he came back and demanded "Star, TWO!" and pointed to just below the first star. This one was even better, and "Stars 3!" and "Stars 4!" were soon put into work.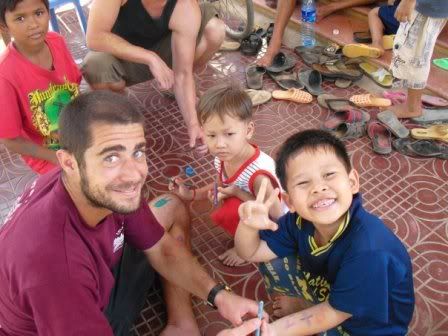 At some point, the kids got hold of the finger paints, and the scene exploded into color. I had two kids per limb drawing on me, and I was immediately tattooed with hearts, stars, an elephant (I think), and the kid's names.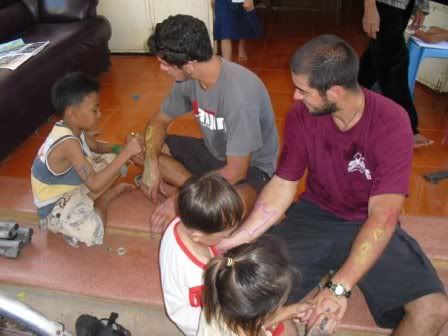 After everyone's bodies ran out of surface area, we headed off to play volleyball in the back of the building. I gently served up a volley, only to have one of the older kids spike it back into my face. He thought that was hilarious. Travis joined our team and we rallied, setting location records of at least 3 or 4 volleys before screwing up.

Sweating like a hooker in church, I amused some of the kids by spinning a quarter and flicking it to keep it going. They each took a turn, matching and then besting my quarter-spinning performance.

When we left, all of the kids shouted "good-bye!" and waved at us. David yelled out "See you tomorrow," which about broke our hearts.