In the words of one of my favorite characters from one of my favorite books from one of my favorite authors, "a good bowl o' mountain red (chili) should just kick the dog piss outa ya and make your dick grow an inch."
Since I agree with the man on general principle, I make sure that my chili takes a bit of getting used to...especially if you are sensitive to spice. Some people go for a bit of a bite in their chili...I'm going for tears and broken dreams.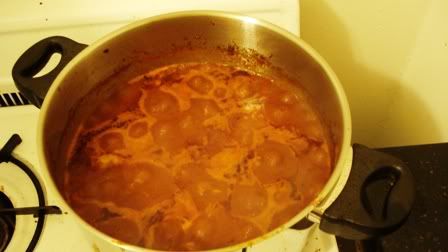 Makes 4-6 Servings, Depending on Whether You Go for Volume or Sampling
1/4 cup Extra Virgin Olive Oil
1.75 lbs Sirloin Steak - cut in strips
Salt
Pepper
4 medium garlic cloves - chop all to hell
1 medium red onion, diced
1 Jalepeno Chilo & 2 Habanero Peppers - sliced and diced
0.5 lb ground sirloin beef
6 TBL Hot Red Chili Powder
1.5 TBL Paprika
2 Tea cumin
2.25 cups canned beef broth
28 oz can crushed tomatoes
2 TBL Brown Sugar
1.75 TBL Worcestershire sauce
2 Tea dried oregano
2 tea dried basil
2 tea dired thyme
1 bay leaf
Methods & Madnesses
1. In a large saucepan, heat the oil over high. Sear the sirloin steak strips lightly after seasoning with some salt and pepper. Set aside.
2. Reduce heat to medium-low and add garlic, onion, and peppers (jalapeno and habanero). Saute for a minute or two. Add the ground sirloin and seared steak. Saute for another few minutes.
3. Add the shit-ton of chili powder, paprika, cumin and saute for another few minutes while you prepare the rest of the ingredients. When you get everything together, stir in the broth, tomatoes, brown sugar, worcestershire sauce, oregano, basil, thyme and a bay leaf. Bring to a good and strong boil, and then reduce the heat until the concotion settles into a gentle simmer. Cook for about an hour, when the steak slices are tender and the sauce is thick.
4. Taste the sauce and adjust with salt and pepper if needed.
5. Pour yourself a decent bourbon or whiskey on ice, and settle in for battle.
Anthony Bourdain. That's me.