It's important to call "shotgun" when you are driving in Jai's car. That's because she has seat warmers and they are awesome. I was all hopped up on caffeine and death metal when I met up with Jai and Shawna for our bi-weekly trek. They were looking pretty fired up themselves. That was a little surprising, since I knew they had spent the night previous at a salsa club, probably downing tequila shots and rubbing up on Latin men named "Enrique."
We headed out, and I, by way of preemptive "shotgun" call, enjoyed the kickass seat warmer. Shawna then pulled a slick one by feigning car-sickness, a horrible malaise that can only be cured by sitting in the front seat. We made a quick stop on a turn-out, and I spent the rest of the drive pouting in the backseat.
Jai picked a hell of a pretty hike this time out, and we spent a few hours hiking under a green canopy that hugged the Northern California coastline.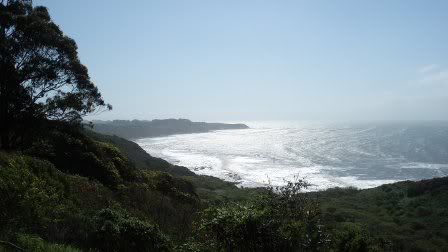 We passed a large puddle in the middle of the trail that was full of newts. They were horny little bastards. Of the 25-30 we saw, probably half of them were getting down. A few piles of 3 or 4 at a time were going at it. Shawna blushed. It was cute.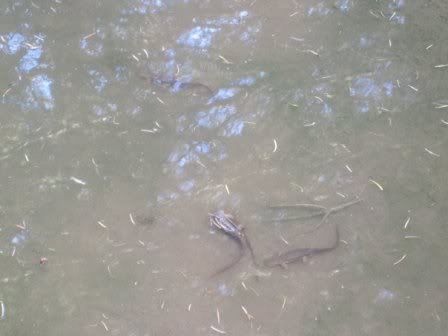 We arrived at the highlight of the trip; a series of waterfalls that lead out of the forest and flow off of a steep drop-off ending on the beach and into the Pacific Ocean.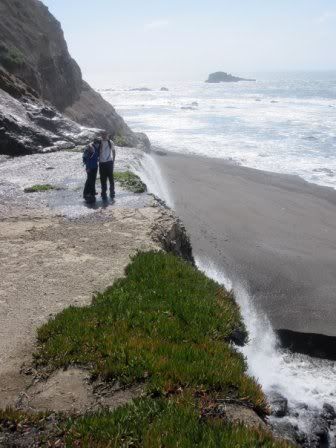 We tripped and stumbled our way down the steep, dirt trail leading to the beach, where we could eat our sandwiches and drink our whiskey. Shawna and Jai nearly died. I blame Enrique.
I finally remembered to bring my flask. Jameson Irish Whiskey, Boi!
After that, we stumbled back up the hill, flopped about dramatically by the waterfalls, and headed home. There was an excess of estrogen, and I learned all sorts of useful information about women. Seriously, I am enlightened. And I owe it all to these two.
Location: Bolinas (Marin County)
Mileage: 8.6m